Supriya Chopda is an Indian Artist and Writer from Chhattisgarh, who has co-authored over 20 anthologies on different topics. The 25 year old (as of 2022) completed her Graduation in BIOTECHNOLOGY (Research field). Supriya is passionate about  dancing, listening to music, writing her thoughts, travelling, playing Casio a little bit, drawing and making creative things, dressing herself, and more.
Reading is one of best loved time pass activities for Supriya because it makes her feel like she is travelling without moving her feet. She is simple girl who believes in hard work and the one who believe  that miracles happens because  of our smart and hard work  we do.
Personal Information Of Supriya Chopda
Supriya Chopda was born in Chattisgarh, India on 28 November 1997. Shri Shantilal Ji Chopda is the father of Supriya and Smt. Savita Chopda is the mother of Supriya. She has one elder brother and one elder sister, both of whom are happily married. Supriya completed her graduation in Biotechnology (Research field) with advanced training. Her schooling and college studies were completed from her hometown in Chhattisgarh, India.
Please note that Supriya Chopda uses the pen name Supriya for all her literary work like anthologies.
| | |
| --- | --- |
| Name | Supriya Chopda |
| Pen Name (for Anthologies) | Supriya |
| Profession | Artist and Writer |
| Nationality | Indian |
| Hometown | Chattisgarh |
| Date of birth | 28 November 1997 |
| Father of Supriya Chopda | Shantilal Ji Chopda |
| Mother of Supriya Chopda | Savita Chopda |
| Siblings of Supriya Chopda | One elder brother, One elder sister, both are married |
| Educational Qualification of Supriya Chopda | Biotechnology (Research Field) with advanced training. |
| Height | 170cm |
Favourites and Passions Of Supriya
Supriya has a lot of interest in Dancing, Reading, Writing, Travelling, Listening Music, Sometime Drawing, Editing photos and videos, Learning Something New like languages, Arts, Instruments, etc.
Supriya Chopda is an Ambivert who Believes in karma and Universe. Interestingly, she can use both hands equally and believes in hard and smart work.
| | |
| --- | --- |
| Favourite Colour | Black, Lavender, Blue |
| Food Habit | Vegetarian |
| Favourite Singers | Sonu Nigam, KK, Shreya Ghoshal, Shaan, Udit Narayan, Mohit Chauhan, Armaan Malik, K-Pop – BTS, Stray kids, Shinee. |
| Favourite Cricketers | Suresh Raina, Brett lee, ABD (Mr360) |
| Favourite Footballers | Cristiano Ronaldo and Lionel Messi |
| Personality Traits | Ambivert, Believes in karma and Universe, Can use both hands equally and believes in hard and smart work. |
Achievements of Supriya
1. She Wrote in 20+ anthologies as co-author which are on different themes and genres-some are motivational while some are love themed and a book as "Rainbow" is about LGBT++ which is available in wattpad. some of her book mention below are available in amazon some are launched and some are under progress for launch –
1. Our inspiration
2. Impossible? I'm possible
3. Unicorn
4. Rainbow
5. Silent love
6. Stolen heart
7. Roller coasters of Emotions
8. Tribute to kk
9. Still with you
10. Dream
11. Robust overlive
12. Tarpan
13. Wishtling wind
14. Passion
15. Smile
16. Dosti
17. From impossible to possible
18. Penned aspirants
19. The porphyrous ocean
20. Whisper of heart
21. Because its always  you
2. She had compiled 2 anthologies named as-
1)Raindrops on pain
2)Zest for life
Both are available on Amazon.
3. She Got International Recognition Medal, Certificate and Letter of Recognition in the International Art  Contest(2021) organised by Innovize event (IAC).
4. She had Participated in International Art Contest season -7 (2022) organised by Innovize event (IAC) and won the title of Top Appreciable Artist ranking under 100-200.
5. Her poetry got featured in "Namya Magazine September Edition 2022" and in "Eagle Eye Magazine October edition 2022".
6. She had Participated in S7 poetry contest 9th edition and had national level certificate for that.
7. Her Interview is featured in Glorious India magazine volume 06 issue 1.
8. She got featured as "Top 30 Most Talented Personalities Of 2022" and in 45+ sites.
Awards won by Supriya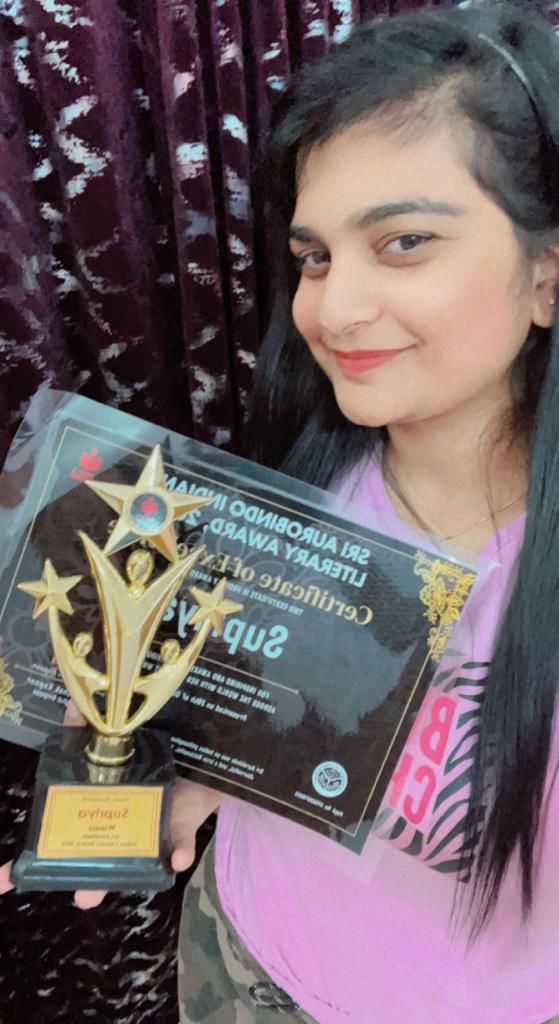 1. "India's top 20 prestigious artist 2022" by Namya magazine and Namya foundation.
2. "The Leading Attainers Award 2022 as writer of the year 2022" organised by JEC publication.
3.  "Sri Aurobindo Indian literary award 2022" by Cherry Book Awards and Digital Golgappa.
Social Media of Supriya
Supriya is active on her Instagram id-@sup.riya1303  where she posts her thoughts and quotes.